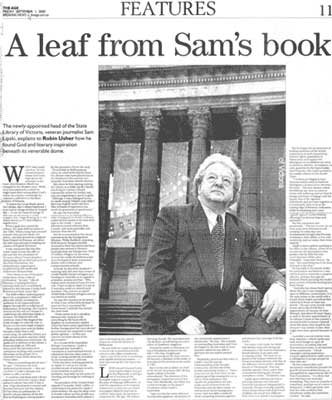 A leaf from Sam's Book
The newly-appointed head of the State Library of Victoria, veteran journalist Sam Lipski, explains to Robin Usher how he found God and literary inspiration beneath its venerable dome.
When Sam Lipski was four, he was certain he knew where God lived, high above the treasures at the heart of civilization. Much has changed in the 58 years since. While he is now prepared to admit he might have been wrong about God's home, he remains convinced the treasure is still there in the State Library of Victoria.
"It was in the Great Dome above the Library, that's where God lived. I even had an image of what he looked like – it was the head of George VI that was on the penny. I could imagine that visage floating up in the dome as if it had religious significance."
When Lipski first visited the Library, he came with his father in the 1940s. While a young Sam amused himself with picture books, his father, who had arrived as a migrant from Poland via Warsaw, set about the self-imposed task of reading the classics of English literature.
It was memories like this that made Lipski accept the offer to become the new president of Victoria 's library board despite a demanding role as chief executive of the Pratt Foundation, the philanthropic organization established by the cardboard millionaire Richard Pratt.
"The Library is one of the great institutions of any cultural civilization," he says. "Like all libraries, it is being forced to reinvent itself, but it is brilliantly placed for this because it looks forward and back, Janus-like."
The $200 million redevelopment due to be competed in 2004 will allow the Library to extend its audience to an unprecedented degree through the installation of information technology. But Lipski is convinced this will not change its traditional role which has books at its heart. He believes this will continue, even if the shape of the book changes so radically that in future it is not even made of paper.
Those early visits with his father became a habit that is still continuing. He used the Library as a high-school student and later while attending Melbourne University . He spoke out in defence of the Library's financial plight in 1984 and discovered the full extent of its usefulness working with research librarians on his project for a Channel 9 mini-series about the Petrov affair.
"There is something special here," he says. "Librarians are such dedicated professionals – they are not here to make a fortune, but rather to offer a service."
It could be said those early Library experiences bred into Lipski a deep sense of culture. But even if that is true, it has developed to extend well beyond literature and the classics. He has been an ambassador of Jewish cultural identity all his life, first as Washington correspondent for the Jerusalem Post in the early '70s and later in Melbourne as editor-in-chief of the Jewish News. His diverse roles have placed him at the forefront of the creation of a uniquely Australian – Jewish identity.
But when he first started visiting the Library as a child, Lipski's family was living in Carlton's Jewish community where his mother only just beginning to speak English.
"Although it was a bilingual home, we spoke mainly Yiddish and I didn't have any English until I was four. That richness of experience has stood my generation in good stead."
He says the Australian achievement in accepting different tides of migrants to create a tolerant society is the best of its type in the world – more adventurous and cohesive than Canada, and more equitable and humane than the US.
But he is concerned at the recent statements by the Immigration Minister, Philip Ruddock, attacking both Kosovar refugees forcibly returned to their homeland and boat people who arrived in Western Australia from the Middle East . With 25 million refugees on the move around the world, he believes a way must be found to lead community debate with a tolerant and compassionate attitude.
Instead, he describes Ruddock's warning early this year that a wave of 10,000 Middle Eastern refugees was heading for Australia as an appeal to prejudice, anxiety and fear. "Why exploit such emotions? Even if it was true, I have to ask so what? It's not as if Australia could not absorb such numbers. The country accepted 10,000 Indo-Chinese refugees and no one batted an eyelid."
He says the country can be proud of what it has achieved in the past 50 years but he is concerned the Government's attitude has turned the clock back.
"There seems to be a mindless bureaucratic impulse to do everything by the book which displays an unnecessary rigidity. There has been some opposition to further immigration but your elected governments are supposed to lead public opinion – in this case opinion has been ahead of the government."
As a trustee of the Australian Refugee Foundation, Lipski is concerned that Australia 's reputation in international forums, a reputation that has taken years to build, is being needlessly tarnished by the Government's attitude.
"There has been nothing gained by its stand. It's not as if it can be justified as part of attempts to solve environmental or pollution problems. Australia has lost some of its standing and prestige for nothing in return."
The president of the United Israel Appeal of Australia, Mark Leibler, is unstinting in his praise for Lipski's achievements. He says his deep roots in Jewish culture and his profile as a prominent Australian have played a role in developing the special character of Jewish identity in Melbourne.
He also believes Lipski has played a crucial role in presenting Jewish culture to the wider community. "Sam is one of the most outstanding and capable Jewish journalists – I rank him among the very top in the world."
Lipski joined Channel 9 after finishing his degree and got his first big break covering a riot of inmates at the Bonegilla migrant camp in 1961. Because of language difficulties, he used his experience of the migrant community to interview an Italian newspaper editor he had met in Carlton . Since then he has been a columnist for The Age, The Sydney Morning Herald, The Australian and The Bulletin , as well as being executive editor of Quadrant magazine.
During his career in television, he was a foundation producer for the ABC's This Day Tonight and executive producer for Four Corners. He became a member of the Order of Australia for his services to the media in 1993.
But it is in his role as editor-in-chief of the Jewish News from 1987-98 that Lipski is likely to be best remembered. The chairman of the newspaper's board for most of that time, Sam Moshinsky, says there was a substantial gain in the paper's circulation under Lipski's leadership.
"Sam is a very fair man and once that become apparent, all sections of the community appreciated it immensely," he says. "He is simply an outstanding Australian and I was privileged to see him work at close quarters where he was able to galvanise the journalists around him."
Moshinsky points out that a key to Lipski's success was his understanding of the broader community and the role of the Jewish community within it. "There were Jews on the First Fleet, so the beginnings of the community are as old as white settlement. But significant proportions are also made up of survivors from the Holocaust and the slave camps, as well as more recent immigration waves. Sam was able to meld all these competing interests together an present fair coverage of all the issues."
He shares with Lipski the belief that the key issue now facing the community is the need to maintain a Jewish identity in an open and accepting world. "We must try to preserve the balance between the broad Australian identity with that of the different communities, whether Jewish or Vietnamese. That way enriches people's lives, rather than everyone becoming part of some amorphous whole," Moshinsky says.
Lipski agrees this has become a pressing concern now that anti-Semitism has almost disappeared in Australia. He says even day-schools, which attract about half of all Jewish children, are not all that different from their non-Jewish counterparts.
But he hopes the involvement of leading members of the Jewish community in such concerns as human rights, opposition to Hansonism and support for Aboriginal reconciliation can serve to reinforce identity. As evidence, he cites speeches by the black leader, Noel Pearson, who Lipski quoted in his weekly column in the Jewish News.
"I've been privileged to hear Pearson outline what he believes Aborigines can learn from the Jews," he wrote. "The four themes which reverberate are: how to come to terms with suffering, and yet find the energy and hope to engage with the future; how to be vigorous individuals and yet come together as a community; how to be at the cutting edge of Western civilization while maintaining one's own heritage and identity; and how to be vigilant against racism without allowing it to destroy hope and optimism."
But his conclusion was pessimistic. "The jury is now out on how many Jews themselves will continue to value that very inspirational strength that Pearson nominates: their ability to live with modernity and yet retain their Jewish identity."
Lipski is more upbeat speaking in his office in the Library, where he has no time for doomsayers who predict that by 2050 the only surviving Jews will be ultra-Orthodox. "I just don't buy it," he says. "But something has to be done, and now is the time."
He has faith in the Jewish ability for reinvention and believes a way will be found to maintain a separate identity, perhaps through the internet which can bring the world's great centres of Jewish learning into every home.
"Australia has always been special about the way it was completely open to different communities. It is the only nation in the world with a Jewish Army leader and whose first native born head-of-state was Jewish." He says every Jewish child knows about the World War I appointment of General Sir John Monash, and about Sir Isaac Isaacs, as well as the later appointment of Sir Zelman Cowen as the country's second Jewish Governor-General. "I never felt doors were closed to me because I was Jewish. In fact, they might even have opened because of it."
Australia's record is better even than America's, which Lipski says took much longer to open all institutions, including Yale and Harvard universities, to all members of the community. "I think Australia's strong aspirations towards egalitarianism spills over to a willingness to accept people for what they are."
He has a theory that such acceptance contributes towards the growth of Jewish philanthropy, as exemplified by organizations like the Pratt Foundation. "It is likely that Jews feel they owe Australia something. They have an impulse to contribute, perhaps out of a sense of reciprocity. I take a perverse view that this only confirms their Jewishness within the Australian context," he says.
The Age - Friday September 1, 2000